Appointment Scheduling Software
Appointmind is an online appointment scheduler that allows your customers to book appointments with you.
Schedule appointments online

Customers can select and reserve appointments from everywhere and around the clock.

Manage appointments locally

Appointments and customer data can be managed by yourself and your employees.

Save time

You and your employees spend less time on the telephone or answering emails.

Always available

After closing time, on weekends or when you are busy.

Access while traveling

Access your appointment- and customer data online - any time, any place.

Versatile and flexible

Adaptable to various industries and uses.

Secure and up-to-date

We handle the data backup and software maintenance.
More than 10 years of experience
Our team has developed online appointment scheduling since 2001. Since then we have added a great number of new features for a wide range of industries.
Utilized on numerous websites
At universities and schools, physician's offices, massage practices, financial advisors, photographers, golf instructors, tire services, swimming instructors, for vacation appartments, conference rooms and many more.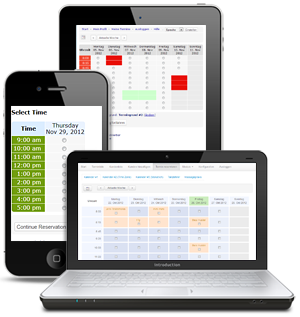 Demo User View Demo Admin Area
Appointment Scheduling Subscription
The appointment scheduling-software runs on our server and will be maintained by us.
Appointment Scheduling Download
Download the software and install it on your own website.
$15 USD per month
+ $129 USD one-time fee
Showcase
These examples show how our online appointment scheduler looks embedded in a website.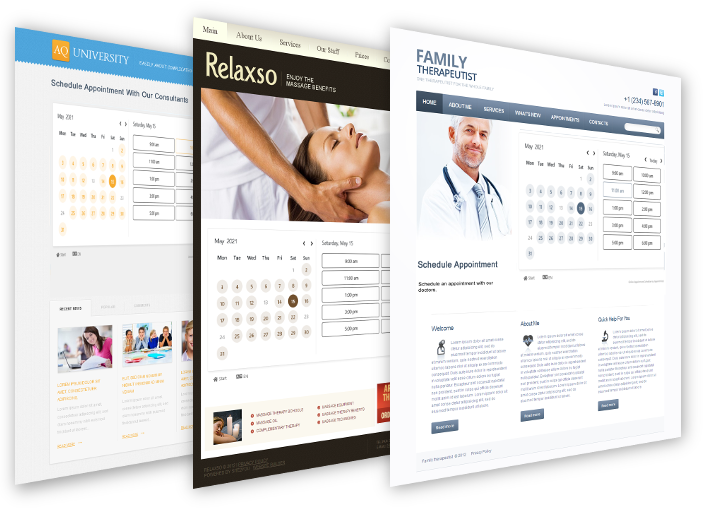 Appointment Booking

Booking appointments via telephone or email are standard practices in everyday business and offer the opportunity to automate it.

Numerous Features

Our appointment booking software comes included with many interesting features and is useful in many different industries.


Useful Add-ons

Not every customer requires all features which is why we maintain our appointment scheduling software in a slim and transparent manner and offer optional add-ons.

Can be integrated with many different services